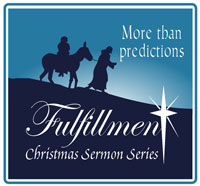 The Community Baptist Church of Silver Lake continues the Christmas Sermon Series titled "Fulfillment" this Sunday at 10:30 a.m. and continuing each Sunday in December.
This season, Pastor Cliff Hathcock examines Matthew's references to Old Testament prophecy surrounding the birth of Jesus to demonstrate that they are "More than Predictions—In Jesus Christ, we find 'Fulfillment.'" This week's sermon is titled "Born in Bethlehem." Evening services continue at 6:00 p.m. each Sunday, as well.
CBC presents a brief candlelight Christmas Eve Service at 5:00 p.m. Pastor Hathcock said, "This service is an opportunity to begin a new tradition, and could fit nicely into family plans for the evening."
Community Baptist Church is located at 203 N. Fourth St. in Silver Lake. For more information, contact the church office at 262-889-4013, or e-mail info@cbcsilverlake.org.