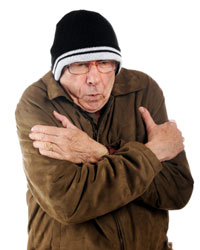 The National Weather Service forecast calls for temperatures today to begin plunging to unseasonably cold levels for the next few days.
Cold air moving in will have wind chills tonight in the low single digits, says a hazardous weather outlook issued this morning by NWS.
It just gets colder from there. Friday's high temperature is forecast for 19 with a low of 5. Saturday's high temperature will be 18 with a low of 11.
Temperatures are expected to climb back up into the high 20s on Sunday, but it might snow.