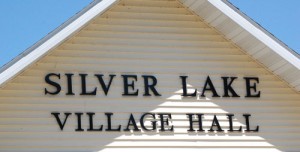 An ordinance that would have changed the meeting structure of the Silver Lake Village Board was soundly defeated Wednesday night.
Village President Sue Gerber had proposed the change to having one Committee of the Whole Meeting a month (on the first Wednesday) and a one regular meeting where action can be taken. Gerber said she made the proposal as a way to improve communication and save money. Trustees are paid $10 for committee meetings and $50 for regular board meetings. Gerber has estimated that the change could save the village about $7,000 a year.
During discussion of the ordinance before the vote, Trustee Sotiria Wilber asked Gerber to also take a decrease in pay. Unlike trustees, the village president is paid a set $2,400 ($200/month). The president also is paid an additional $10 per committee meetings, but nothing for attending regular meetings.
During citizens comments, former village President Jeff Albrecht urged the board not to change the meeting arrangement. He said having only one regular board meeting per month would be restrictive for the board and limit citizens comments as well (comments are typically not taken during committee meetings in Silver Lake). As for the cost savings, he said Silver Lake trustees, who do not have an administrator to rely on, deserve at least the current pay and perhaps an increase.
"I ask you to consider the ramifications," Albrecht said.
Gerber was the only vote in favor of the change. Trustee Michael Decker was absent.
We asked via email all board members who voted against the measure why they voted no. Here are the responses we received as of 2:27 p.m., Thursday:
Trustee Patrick Dunn: "I don't feel that we can get all that we need to accomplish done in just one meeting a month."
Trustee Sotiria Wilber: "I only voted no until we could come to an agreement with Sue's salary like I stated in the meeting.  I am not opposed to trying it out to see if it will work out for us."