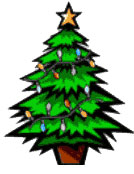 Note: The Twin Lakes Chamber & Business Association Inc. has advertised this event on westofthei.com. — DH
Trees on Parade is lining up to be a great event this year! This year's event sponsor is Allied Plastics, Inc. from Twin Lakes. The Twin Lakes Chamber and community appreciate their contribution and thanks them for helping to make this event possible.
Trees on Parade's new location is at St John's Hall at 701 N. Lake Ave, Twin Lakes. It will take place on Fri, Dec 6, 4-8 p.m. and Sat, Dec. 7,10 a.m. to 5 p.m. Admission is $2 for Adults and $1 for children. There will be 18 decorated Trees for the public to vote on and 20 vendors for everyone's shopping pleasure. There will also be a Children's Corner with a craft and free face painting sponsored by Mad Dan's Restaurant. Santa will be in Santa's Corner on Friday 4-6 p.m. and Sat. 3-5 p.m., which is sponsored by Sunset Mechanical.The winners of the Children's Coloring Contest sponsored by BMO Harris Bank will be announced at the event.
Trees on Parade closes at 5:30 p.m. on Saturday, Dec 7, then the downtown Village Walk begins. Local businesses will be offering cookies, chestnuts, wassail and other treats plus a place to warm up. Keller Williams Realty is sponsoring two of the Milwaukee Brewers Baseball Club's famous Racing Sausages who along with the Grinch will race at 5:45 p.m.  from the Fire Department to the tree lighting at the caboose. Santa will follow the race and arrive in time to help village President Howard Skinner light the Village Tree.