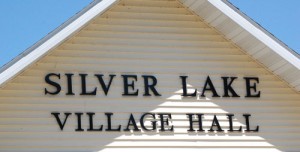 The Silver Lake Village Board will accept letters of interest from people interested in filling the trustee seat vacated by Barbara Ironside.
The board unanimously decided to accept letters of interest at the regular Village Board meeting Wednesday night. Trustee Michael Decker was absent.
The motion to accept letters was made after a failed attempt by Trustee Pat Dunn to nominate Joy Corona to fill the vacancy. Dunn said Corona was qualified for the position due to her background as a civil engineer. She was no in attendance at the meeting.
"She has experience working with villages and village governments," Dunn said.
But Dunn's motion was defeated with his vote being the only one in favor.
Trustee Sotiria Wilber then motioned to accept the letters and have them opened at the next Village Board meeting on Dec. 18. That motion passed unanimously.
Earlier in the meeting, Wilber challenged the assertion made last month by village Clerk/Treasurer Terry Faber that there was not enough time to appoint a trustee and that instead the seat would have to be filled with a special election held in conjunction with the April election. On Wednesday, Faber acknowledged that the timeline for an appointment to avoid the special election is Dec. 31.
Filling board vacancies on the board has been controversial this year. Current village procedure calls for the president to make a suggestion for the seat and then the board to vote.
Following the April election, Wilber was appointed to fill Sue Gerber's seat when Gerber, a sitting trustee, won the village president race. Gerber recommended the next highest vote getter in the April election receive the appointment, but that idea found no support on the board and Wilber was approved by a 4 to 1 vote with Gerber voting against and Ironside abstaining, but not stating her reason for abstaining. Wilber had received the least votes of six candidates for trustee in the April election.
Then in May, Trustee David Snow announced he was resigning due to conflicts between his trustee duties and those of a new job. The village solicited letters from interested individuals and received five. One of the five, Paul Snellen, was appointed by a 4 to 2 vote in July, with Gerber and Ironside voting no.