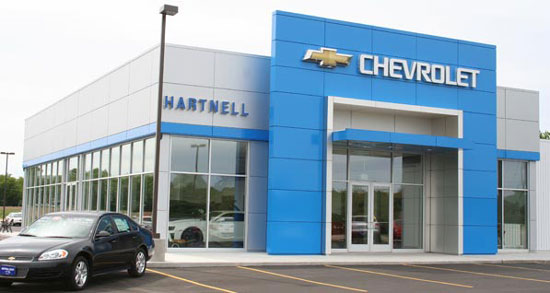 Hartnell Chevrolet in Salem has been a leading Chevrolet dealership in southeast Wisconsin since 1919.
Since its beginnings, Hartnell has been building relationships based on providing exceptional customer service. Several employees at Hartnell Chevrolet have offered outstanding customer service experience for 20-plus years. Hartnell Chevrolet's goal is to keep each customers coming back time and time again.
Whether you are in the market for a Chevy car or truck let Hartnell be your Chevrolet source. Hartnell's wide selection of new and used car models is available for a test drive today. Hartnell has the lowest prices and widest selection of popular new and used cars.
What sets Hartnell apart is dedication to taking care of your auto needs during and after the purchase. In Western Kenosha County and looking to get your car or truck repaired? Hartnell offers excellent service options. We also have an easy way to order parts or schedule service online at your convenience. You can also contact the service department to talk to one of our certified service professionals. They are standing by to assist you in any way they can.
We're here for the long run so let us impress you with our service abilities.
Visit: www.hartnellchevy.com