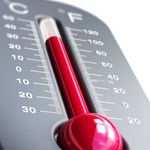 The National Weather Service forecast says we should have a couple of warm — if wet — days before temperatures plunge for the weekend.
The high temperature should reach 46 today and 49 Wednesday. Today there is an 80 percent chance of rain and there's a 40 percent chance of rain Wednesday.
That warm trend will begin to ebb on Thursday, with a high of 29 degrees. By Friday night, the low temperature is forecast at 8.