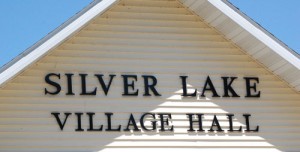 Just two weeks ago it looked like the Silver Lake trustee seat vacated by the resignation of Barbara Ironside would be filled by a special election.
But the item is back on the agenda for Wednesday's Village Board meeting.
Village Clerk/Treasurer Terry Faber said on Nov. 20 that there did not appear to be time to appoint a trustee to the seat before the deadline for notices for a special election concurrent with the spring election to fill the seat.
The item was placed on the agenda by Trustee Soti Wilber.
Filling board vacancies on the board has been controversial this year. Current village procedure calls for the president to make a suggestion for the seat and then the board to vote.
Following the April election, Soti Wilber was appointed to fill Sue Gerber's seat when Gerber, a sitting trustee, won the village president race. Gerber recommended the next highest vote getter in the April election receive the appointment, but that idea found no support on the board and Wilber was approved by a 4 to 1 vote with Gerber voting against and Ironside abstaining, but not stating her reason for abstaining. Wilber had received the least votes of six candidates for trustee in the April election.
Then in May, Trustee David Snow announced he was resigning due to conflicts between his trustee duties and those of a new job. The village solicited letters from interested individuals and received five. One of the five, Paul Snellen, was appointed by a 4 to 2 vote in July, with Gerber and Barbara Ironside voting no.