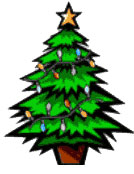 Note: The Twin Lakes Chamber & Business Association Inc. has advertised this event on westofthei.com. — DH
The annual Twin Lakes Trees on Parade, hosted by the Twin Lakes Area Chamber and Business Association, Inc., will take place Friday, Dec. 6 and Saturday, Dec. 7.
The event has a new location this year — St. John the Evangelist Parish Center, 701 N. Lake Ave. in Twin Lakes. Hours on Friday are 4 to 8 p.m. and on Saturday from 10 a.m. to 5:30 p.m.
Trees on Parade will include the display of beautiful Christmas Trees decorated by local businesses and organizations just for this event. The public can vote on their favorites.
There also will be a craft/vendor sale so you can catch up on holiday shopping. Food will be available for purchase.
Santa will visit Trees on Parade on Friday from 6 to 8 p.m. and on Saturday from 3 to 5 p.m.
On Saturday after everyone has enjoyed Trees on Parade, which closes at 5:30 p.m., some of the businesses on Main Street will open and be part of a village cookie walk before the tree lighting. Some businesses will offer refreshments and a place to warm up. Two of the famous racing sausages will compete against  the Grinch in a race down Main Street to Central Park.  Santa will arrive on a Twin Lakes Fire Department fire truck at Central Park and join village President Howard Skinner for the annual tree lighting.
Visit www.twinlakeschamber.com for more info.