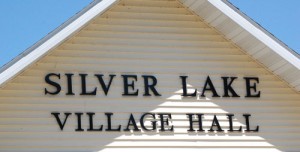 The Silver Lake Village Board passed a tax levy for 2014 that includes a 1.46 percent increase over 2013.
The levy for 2014 will be $1,050,151. The 2013 tax levy was $1,034,984.
The levy passed by a unanimous vote at a special Village Board meeting Wednesday. Trustee Mike Decker was absent.
With no revaluation in Silver Lake this year, most properties will have seen no change to their assessed value. If your assessment is the same, the effect on your village taxes will likely be an increase of about 1.46 percent.
Also at the special meeting, the board approved an approximately 2 percent pay increase for village office workers and public works employees. The building inspector also is receiving an increase called for in his employment contract. Those moves were approved 4 to 1 with Trustee Patrick Dunn voting against.
After the meeting, Dunn said he felt the time was not right for an increase for village employees, especially since they received an increase last year as well, due to the tightness of the village budget.
Note: Bruce Francart contributed to this report. — DH