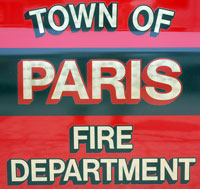 Paris resident will be charged $450 for basic life support services from the Paris Fire and Rescue Department, after action taken by the Town Board Tuesday.
In the past, residents were not charged for basic life support services.
Non residents will be charged $550 under the resolution adopted Tuesday.
Instituting a charge for residents was something suggested by the town's new emergency medical service billing company. Company representatives told town officials that the lack of any fee for residents could present a legal exposure and an opening for a lawsuit. The town's attorney agreed.
"It's not that the town can't afford or doesn't want to provide free ambulance service, its a legality," said Supervisor Ron Kammerzelt.
A resident who does not have insurance and cannot pay the full bill can find some relief through a provision of the resolution, Kammerzelt said.
The resident fee could not be a token fee but had to be somewhat comparable to the non-resident fee, officials said.
About one-third of the town's total emergency medical service calls are for residents. Largely due to I-94's proximity to Paris, about two-thirds of the town's EMS calsl are for non-residents.