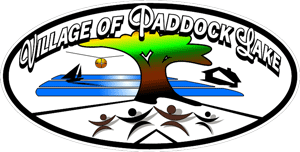 The Paddock Lake Village Board has passed a tax levy for 2014 that is 2.53 percent lower than the 2013 tax levy.
The 2013 tax levy was $1,607,590. The 2014 tax levy will be $1,566,931 about $40,659 less than 2013. The tax rate will be $6.
What that means for the village portion of your property taxes depends on what has happened to your assessment since the 2013 tax bill. If your assessment has stayed the same or decreased,  your village taxes should decrease.
Village President Terry Burns said the reduction in levy was made possible by "sharpening our pencils" and trimming expenditures. The largest chunk, about $50,000, Burns said, came from Public Works.
The village also opted not to levy for all of the increase it legally could have, Burns said.
Burns emphasized that no village service to residents has been cut with the 2014 budget.
"We're saying  we've brought your taxes down and we're giving you more for your quality of life here," Burns said.