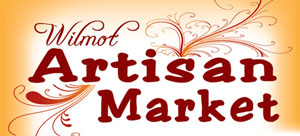 Note: Wilmot Artisan Marrket is a westofthei.com sponsor. — DH
The 2013 Crossing Borders Artist Market & Studio Tours with unique holiday items made by local artists will take place Nov. 23 and 24 and Dec. 7 and 8.
The tour features glass blowers, potters throwing on the wheel, bronze sculptors, jewelers, Art/Coffee bars, jewelry, wood turning, galleries, photographs, educational opportunities to witness art studios rarely open to the public, fun for all and more.You are invited to participate in this free self/guided tour of a select group of artists studios, galleries, and area happenings.
Included will be northeast Illinois and Southeast Wisconsin galleries and studios:
Wilmot Artisan Market, 30723 113th St., Wilmot.
Fox River Glass, 11218, Fox River Road, Wilmot.
Wabi Sabi Farm & Studio, 10701 395th Ave., Genoa City.
Antioch Fine Arts Foundation, 413 Rt. 83, Antioch, Ill.
Carriage House Gallery, 2110 Main St., Spring Grove, Ill.
Julie's Coffee, 216 N. Milwaukee Ave., Lake Villa, Ill.
Stone Forest Pottery, 8824 Quail Run , Burlington.
McLean Studio, 3807 Spring Grove Road, Johnsburg, Ill.
JP Studio, 26960 W. WIlmot Road, Antioch
Ginger Blossum, 3016 Route 173, Richmond, IL.
Click here for more information or stop in at the Wilmot Artisan Market for a map, 30723 113th St. Wilmot.