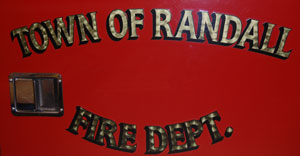 Paul "Buddy" Pfenninger has been appointed to fill the remaining term (2 months) for Battalion Chief, Powers Lake Station, Randall Fire Department.
Pfenninger's appointment was recommended for the position by the fire department to the Town Board. The Town Board approved the appointment last week.
The Battalion Chief vacancy was created by the Oct. 21 death of Thomas Brown.
Pfenninger was the captain in Powers Lake.
The captain position will remain open until Jan. 1 when the elected chiefs select the line officers, said town Chairman Bob Stoll, also an officer on the fire department.