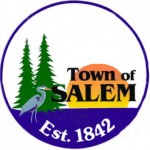 The Salem Town Board passed a 2014 tax levy with a 5.11 percent increase at a special meeting Thursday evening.
For the four previous tax levies, the board had approved a 0 percent increase.
The 2013 total levy was $3,419,470. The 2014 levy will be $3,594,299.
The levy and accompanying budget was also passed by electors at an electors meeting held before the special Town Board meeting, but not before a trio of residents questioned some aspects.
Resident Michael Ullstrup wanted to know why the board needed to increase the levy this year instead of finding creative ways to cut spending.
Board members defended the levy increase as necessary after four years of cutting expenses to keep the levy the same.
"This board has done everything it could … our backs are against the wall," said Supervisor Mike Culat.
Highway Department supervisor Mike Murdock explained that department heads have been cutting expenses in recent years to keep the flat levy in place while paying for the new Trevor Fire Station/Highway Department building. In the process, capital spending and planning has suffered.
Several board members pointed out town workers that do not belong to a union have not received a raise in years and that what the town is charged for some outside services — such as assessing  and insurance — has increased beyond the control of town officials.
The vote in favor of the levy and budget at the electors meeting was overwhelmingly in favor, perhaps even unanimous. The board approved the budget and levy unanimously.