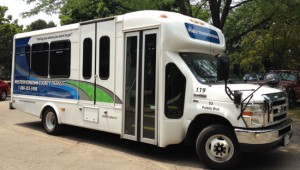 Western Kenosha County Transit officials are proposing expanding the distance from the regular route that buses can deviate to pick-up passengers in an effort to bring more riders to those set route buses.
Officials rolled out that plan and others at a public hearing on county-run transit held at the Community Library in Salem Wednesday.
Currently buses on the set route that runs from Kenosha to Twin Lakes chiefly along Highway 50, Highway B and Highway F will only deviate from that route about 1/4 mile to pick up passengers, said Carolyn Feldt, the county's manager of elderly and disability services who oversees transit as well. Next year, the proposal is to deviate as much as 3/4 of a mile from the fixed route.
The idea is to get more riders on the fixed route buses — which are running anyway — and relieve use of the demand response buses, Feldt said.
"We're trying to get as many riders as possible on the Highway 50 route," Feldt said.
A deviation pick-up will cost a rider an additional $1 along with the $2 one-way fare. That is the only proposed fare change for Western Kenosha County Transit for 2014.
The hearing Wednesday was to roll out info about the program for 2014 and gather public opinion and ideas, Feldt said. None of the plans presented are final.
Other proposals relating to Western Transit:
Meadowview and Lincoln Crest Apartments will be again be a stop on the fixed route.
Eliminating the Kenosha County Center stop for lack of use.
Adding a Main Street Twin Lakes stop so all riders do not have to get to the current North Lake Avenue bus stop at the Aurora Clinic.
For the first time in its seven-year history Western Transit saw fewer monthly average riders number — 1,511 in 2012 and 1,230 in 2013, about a 19 percent drop.
The drop was anticipated by transit officials due to the dropping of two routes for 2013, Feldt said, Those routes were dropped due to a change in the funding structure of Western Transit that included less advantageous government matching grants.
"We knew we would have a significant dip because we had to reduce our routes by almost a third," Feldt said. "When you look month-to-month, we are building back up."
Funding for the public transit system for 2014 is anticipated to come from the same sources as this year: Elderly and Disabled Transportation grant funds and a $68,203 match from the county tax levy, New Freedom Mobility Management grant including a $12,401 local share, 5311 State Operating Assistance including a $37,390 match from county tax levy and fares.