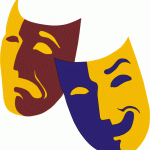 Disney's Beauty and the Beast will be presented by Central High School, located at 24617 75th Street in Paddock Lake.
Based on the award winning animated feature film this is the enchanted tale of Belle, the provincial beauty who breaks the spell cast on the Beast and his castle. This classic fairy tale is both a romance and a horror story, exploring the idea that beauty comes from within. Appropriate for all ages; young children may be scared by the darker elements of the story.
Show times are Friday, Nov. 22 at 7 p.m., Saturday, Nov. 23 at 7 p.m. and Sunday, Nov. 24 at 2 p.m. Ticket prices at the door are $10 for adults and $8 for students and senior citizens. Tickets for the play may be purchased in advance at a discounted rate through Nov. 17. To order advanced discount tickets, go to www.westosha.k12.us.
"Belle's Tea Party" will take place on Sunday, Nov. 24 from 12:30 to 1:30 PM. This separate event includes juice, cookies and exclusive "meet and greet" time with Belle and her Enchanted Object Friends from the cast prior to the Sunday matinee. Ticket prices for "Belle's Tea Party" are $10 for child AND adult escort. The ticket price for additional tea party guests will be $5 per person.