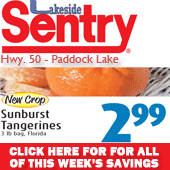 Note: Lakeside Sentry is a westofthei.com sponsor. — DH
This week's ad for Lakeside Sentry in Paddock Lake is now available at westofthei.com. Click on the ad to see the full line-up of values for this coming week.
The sale prices in this ad (click here to see ad) are effective from Thursday, Oct.  31 through Wednesday, Nov. 6.  Ask for a copy of the coupons — including the Super Coupons — at the store service desk.
This week's ad also includes a special No Bones About It Sale, a Produce Sale and special prices on health related supplies, baby items and special prices on trick or treat supplies and pumpkins.
Check out this week's Lakeside Sentry ad for great values you can get right here in Western Kenosha County.