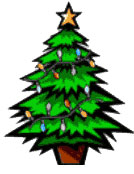 The Twin Lakes Area Chamber & Business Association will host Trees on Parade on Dec. 6 and 7 at St. John the Evangelist Church, 701 N. Lake Ave., Twin Lakes. Event hours on Friday are 4 to 8 p.m., and Saturday 10 a.m. to 5:30 p.m.
The chamber is looking for crafters/vendors interested in selling at the event. Local businesses and organizations are also welcome to enter a decorated Holiday Tree to promote their business or just spread holiday cheer.
For more information contact the chamber office at 877-2220.