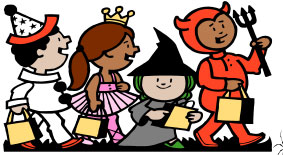 The forecast from the National Weather Service still calls for a wet round of trick or treat today.
By the start of the 4 p.m. official trick or treat time in most Western Kenosha County municipalities, the NWS is calling for a 100 percent chance of rain with a chance of a thunderstorm upping the ante. A 90 percent chance of rain continues through 7 p.m., the end of the officials hours. Eventually, the chance of rain will decrease to 70 percent for tonight. Temps should get up into the 60s today, however.
Friday there's just a 20 percent chance of rain with a high of 52.