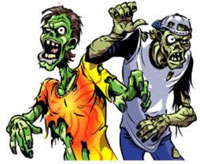 Cub Scouts and Boy Scout from throughout the Three Harbors Council are hosting a haunted hayride tonight, Oct. 25 and Saturday, Oct. 26, 7 to 9 p.m. each day.
Come have fun and food on a hayride through Camp Oh-Da-Ko-Ta. The event is open to the general public. All haunting done by local Boy Scouts and Venture crews.
Camp Oh-Da-Ko-Ta is located at 3363 Dyer Lake Road (Highway P) in Wheatland, just south of Burlington by the county line sign.
Cost is $7 per person.
Note: I originally incorrectly attributed which Scouting organizations were involved in this event. It was entirely my mistake; I apologize. — DH