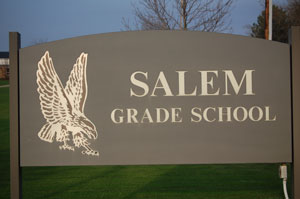 Salem School has started a Student of the Month program this year for 3rd through 8th grade students at the school. Each month classroom teachers will submit their Student of the Month selections to district administrator David Milz.
"The premise is to select students who have demonstrated positive achievement through academics and/or behavior," Milz explained.
September's list had a notable quirk. Triplets in sixth grade Julie, Sophia, and Paul Lynch were all chosen from their respective classrooms for the award at the same time.
Here is the entire list of honorees for September: Alex Sippy, Brandon Beauford, Trinity Rausch, Spencer Rhodes, Aryna Karnila, Gurkash Toor, Bella Avila, Becca Pauletti, Aynslie Tullis, Jillian Adams, Paul Lynch, Sophia Lynch, Julie Lynch, Zane Sumwalt, Daniella Viirre, Carinna Rook, Lance Christopherson, Jasmine Wagner, Lauren LaPlant, Jamie Steinbach, and Celina McClellan.