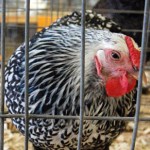 The Bristol Village Board is considering whether to allow more types of properties in the village to keep poultry.
The village's current ordinance requires a property to be zoned Agriculture, Conservancy or Residential-1 — with a minimum lot size of five acres — in order to keep chickens.
Recently, complaints about people keeping chickens have caused the village to issue notices of non-compliance to several chicken owners in the Lake George and Cherry Vista Dells neighborhoods, said village administrator Randy Kerkman. Such a notice gives someone 30 days to comply with village ordinances or a ticket is issued. Those neighborhoods are zoned Residential-2, with smaller lots than R-1.
The complaints centered around noise from roosters and odor, Kerkman said.
On Monday, several chicken keepers were present to argue for allowing them to keep raising chickens in their yard.
Cherry Vista Dells resident Marv Farm said he has had chickens at his property — as he was told was allowed — since 1987, without complaint to him from his neighbors.
"The chickens fit in with the nature of Bristol," Farm said.
Jim Larson, another resident of the same neighborhood who has chickens said he gathered a petition with 100 names on it supporting the keeping of chickens. A third Cherry Vista resident and chicken keeper, Travis Walkington, pointed out that many Bristol 4-H Club members keep chickens in their homes and would have to house their animals elsewhere — or drop out of the poultry project — if the current law stands. Two children from another family who live in Cherry Vista Dells gave a pro-chicken computer slide presentation. That family does not keep chickens but have had positive experiences with their neighbors' chickens, the girls said.
The board deferred a decision — in part because Trustee Ruth Atwood was absent — and asked Kerkman to do some research on other municipalities and report back at a future meeting. The non-compliance orders issued already will be extended until the matter is settled by the board.
"There's some willingness on the board to allow this," but under what conditions needs to be defined, Trustee John McCabe said. President Mike Farrell said which properties can keep chickens might be defined by zoning or lot size or both.
The matter also will likely have to pass through the Plan Commission if it involves land use designations, Farrell said.