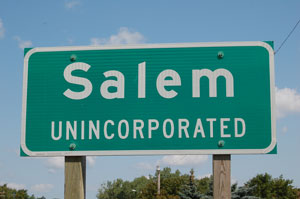 The Salem Town Board approved a resolution supporting the approval of a Menominee Tribal casino at the former Dairyland Greyhound Park in Kenosha.
The resolution passed unanimously with all board members present.
The board did make a change, however to the wording of the resolution, which was supplied by the office of state Rep. Samantha Kerkman. Supervisor Dennis Faber said he objected to some very specific use of economic impact of the project numbers in the proposed resolution. For example, one passage said the complex "would create 3,300 direct and 1,800 indirect jobs."
"Could be more, could be less," Faber said of the numbers. He said he supported the casino, but would vote against the resolution as is over the wording issue.
Supervisor Mike Culat offered the solution of hedging the numbers some by substituting "could" for "would." The change to the resolution was accepted by its sponsor and it passed.
Culat offered the most qualified support for the casino, saying he was not in favor of gambling "but if we don't do something here, it's going to happen across the border" (in Illinois).
Supervisors Dan Campion and Ted Kmiec said they supported the casino coming to Kenosha.
"It's going to to bring in some pretty good jobs, some good entertainment," Campion said.
Said Kmiec: "I do not see any downside at all."
Chairman Diann Tesar did not comment on her views of the casino.
Considering resolutions in support of the casino has been on the agenda of many Western Kenosha County municipalities over the last month or so.
The Randall Town Board passed a resolution on Sept. 12 supporting the casino. The Bristol Village Board also considered a casino resolution Monday night and the Silver Lake Village Board has a casino resolution on its agenda for its Oct. 16 meeting.
The casino is awaiting approval by Gov. Scott Walker before it can move forward.
Related posts
Casino for Dairyland Greyhound Park site OK'd by feds
Rep. Kerkman issues statement supporting Kenosha casino
Randall Town Board endorses casino in Kenosha
Kerkman urges Kenosha casino OK after Hard Rock announcement