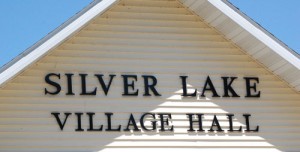 Silver Lake Village Board members appear to be ready to soften some aspects of a new audience participation procedure first introduced at last week's regular Village Board meeting.
Discussion at a Committee of the Whole meeting Wednesday among five board members (Trustees Cyndy Schwebke and a Barb Ironside were absent) seemed to agree on a consensus to adjust language of the procedure to allow people who did not sign up for comments to still speak and for audience members to be able to speak later in the meeting if acknowledged by the person running the meeting, typically the village president. Board members also discussed adding a statement to the beginning of meetings that says personal attacks from the audience will not be tolerated.
Trustee Soti Wilber proposed changes to the procedures for citizen comments last week to address what she said had become meetings that at times were not orderly and made following comments — from the audience or the among board members — difficult at times.
Trustee Patrick Dunn said he was in favor of restricting citizen comments only to the period at the beginning of meetings. The rest of the meetings was for board members to discuss issues among themselves, he said.
"The meetings have got to the point that they are chaotic," Dunn said. "We are supposed to be discussing the motion, not the public."
But the other board members seemed to be in favor of allowing some comment at other points of meetings — within reason.
The board also discussed Wilber's proposed requirement of signing up at the beginning of meetings in order to be able to speak during citizens comments. Most board members said they felt the sign-up should not be a hard and fast rule — for example some people might arrive too late to sign-up — and Wilber agreed to allow those not signed up to comment after those that signed up have had their turn.
Wilber said she would incorporate the suggestions and distribute a new proposal to board members before next week's regular board meeting.
Related posts
Silver Lake considering policy governing audience participation at meetings