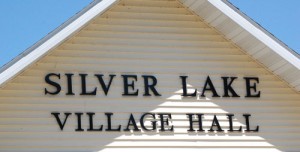 The Silver Lake Village Board is considering a new policy regarding how the audience at meetings can participate in governmental proceedings.
If adopted, the policy would be the most formalized citizen comments practice among Western Kenosha County municipalities.
Trustee Soti Wilber said she introduced the proposed policy in frustration over raucous audience behavior at board meetings. Sometimes, audience members are disruptive enough that board members are unable to hear discussion among themselves, she said.
"Currently people speak out of turn and it causes a lot of problems for us as board members…" Wilber said. "This is not meant to deter anyone from speaking up."
The policy presented Wednesday includes:
Following Robert's Rules of Order.
A time limit of 3 minutes for speaking during citizen's comments.
Speakers for citizens comments will need to sign-up at the meeting before it starts, including a topic they wish to address. Speakers "will only be allowed to speak on that specific topic and will only be allowed to speak on that topic one time, unless requested by the board," the policy says.
Speakers will have to wait to be acknowledged by the presiding officer. Also, "citizen's comments are to pertain to the topics of the village. Personal attacks will NOT be tolerated and you will be asked to leave immediately. No questions asked!!! Repeat offenders will not be allowed to speak during Citizen Comments" (Note: Capitalization and punctuation from original — DH.)
A requirement to submit a request to the village clerk five days in advance of a meeting to be placed on the agenda. That requirement is in order to allow time for the appropriate committee chairman to be contacted. Only committee chairman place items on the agenda in Silver Lake.
The entire policy including the sign-up sheet can be viewed  here (document provided by Trustee Soti Wilber).
Village President Sue Gerber criticized Wilber for not bringing the policy before a committee. In response, Wilber said she distributed the policy via email and requested feedback.
Gerber also defended how she has been running meetings.
""If it gets out of order, I stop it," Gerber said.
Wilber acquiesced to Gerber's request for the item to be discussed at a committee meeting and the item was tabled.