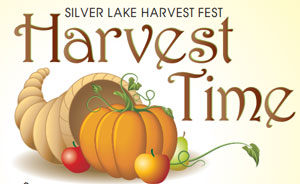 Silver Lake Harvestfest will take place Saturday, Oct. 26.
Planned activities include:
A Scarecrow Yard Decoration Contest with judging starting at 2 pm. Application available here.
A Twilight Parade, beginning  at 6 p.m. at Riverview School. Light up floats and vehicles are invited. There will be prizes for the best entries. Application available here.
Harvest Fest activities at the Community Baptist Church, 203 North Fourth Street, beginning at 4:30 p.m. There will be a bonfire, food, beverages, games, music and a pumpkin carving contest.
Contact Cyndy at fallfest2013@hotmail.com or at 262-498-0529 for more information or if you have questions. You may also pick up applications for the Scarecrow Contest and the Parade at the Village Hall, 113 S First Street.
And anyone needing information on the goings on at the church may call Pastor Cliff at 262-889-4013 (church) or 262-889-2585 (home).