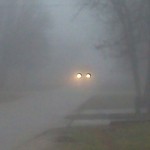 At 5:52 a.m., I just came in from a trip to Salem and back and it's foggy out there — at least in places.
The National Weather Service agrees and has issued a dense fog advisory, in effect until 9 a.m.
Patchy fog is in the forecast again for Friday morning too at this point.
Today's high should be about 72, with a low tonight of 49.