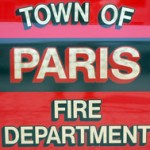 The Paris Town Board Tuesday decided to buy a new ambulance for the fire department and get rid of an old one.
But instead of trading in the old vehicle on the new one, the town decided to sell the squad to a nearby department that is in need of one.
Upon the recommendation of fire Chief Roland Iwen, Assistant Chief Richard Perkins and town Supervisor Ron Kammerzelt, the Town Board unanimously agreed to purchase a new Braun ambulance for $198,854.
"I thought it would be more than this, to tell you the truth," said town Chairman Virgil Gentz.
One key feature of the Braun ambulance is that the box portion of the vehicle has a lifetime warranty, Perkins said. In the future, the town could end up replacing just the chassis and use this same box.
The new ambulance will take about 180 days to be built out, but Braun will send a loaner ambulance in the interim, Perkins said.
Kammerzelt said the town has been looking at buying a new ambulance for a while but was waiting to see if a regional fire/rescue study was going to be done. When that fell through recently, the search for a new rig resumed.
After voting to buy the new ambulance, the board agreed to sell the rig that is being replaced to the Antioch (Ill.) Fire Department.
Chief John Nixon, Antioch Fire Department, explained his department just began supplying emergency medical services this June, when a contract for EMS with Antioch Rescue Squad was terminated by the Village of Antioch.
Providing EMS "was thrust upon us without preparation," Nixon said.
Since June, the AFD has been leasing ambulances, which Nixon said has been expensive.
Paris will receive $20,000 for the ambulance (unit 55410). Paris will be able to remove all electronics such as radios and remove RFD decals and have the use of the loaner ambulance from Braun before delivering the squad to Antioch.
"I felt the Antioch proposal was fair," Kammerzelt said.