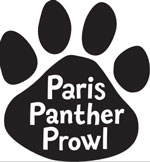 The public is invited to join Paris School's students, families and staff for their unique "fun"raiser. The Eighth Annual Panther Prowl Walk-a-thon will be held on Saturday, Oct. 5, from noon until 5 p.m. at Paris Consolidated School located at 1901 176th Ave.
This year's campaign for pledge support has the students working diligently to raise funds for engaging iPad apps and playground improvements. The Panther Prowl features students walking laps in exchange for pledged donations. Also at the Prowl will be: silent auction, bake sale, sponge toss, and children's games. Lunch and snack items will be for sale as well.
Event sponsors include: Billingsley Engineering, Creative Advertising, Grasscape, Kenosha Beef, MC Productions, and the Somers Sportsman's Rod and Gun Club.
This event is Paris School's largest fundraiser supporting technology in the classrooms, educational enrichment for students, and enhancements for the school.
If you would like more information regarding this event or to donate, please contact Beth LaBell, Panther Prowl Coordinator, at 262-515-3175.