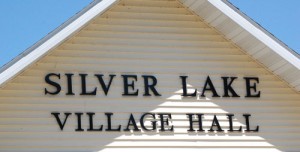 Silver Lake will open negotiations with Salem about sharing fire and rescue services after action by the Silver Lake Village Board Wednesday.
Village President Sue Gerber was the only vote against the motion, which was presented by Trustee Barbara Ironside.
Ironside said she saw this as the first step in a series of possible explorations of shared services with Salem, which could include public works and other village functions.
"We owe the residents in the village for them to have the best they can for their tax dollars," Ironside said. "We are not doing that. We are maintaining but we are not moving forward. It's got nothing to do with personal feelings … it's doing what we need to do to survive as a village."
Ironside acknowledged that her aim is in part to try to rectify the contentious issue of fire and rescue services that has been dominating local government for almost two years.
Ironside said she contacted Salem officials about discussing shared services and found the reaction favorable as long as discussions were not held behind closed doors. Ironside said that was in reaction to recent negotiations between Silver Lake and Salem for providing emergency medical services that were conducted largely at the staff level on Salem's part. Salem eventually backed out of providing the service after it reached the Town Board level.
After the meeting, Gerber said she voted against talking with Salem because she is concerned about the cost of sharing service with Salem.
"I can foresee a further cost … only because of what happened previously  when this was brought forth," Gerber said. She cited an analysis done by Salem town Supervisor Dennis Faber that  showed at the per resident rate for rescue service only paid by Salem residents Silver Lake would pay  $64,911.60 a year; at the per resident rate for rescue service only paid by Paddock Lake Silver Lake would pay $77,459.20 a year; and at the per resident rate for rescue service only paid by Brighton residents Silver Lake would pay $42,409.90 a year. Brighton and Paddock Lake contract with Salem for fire and rescue services.
No time for a first meeting with Salem was set.