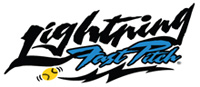 Salem School District residents present at a special meeting Tuesday unanimously approved a 10-year lease with Lightning Youth Athletics.
In exchange for priority use of the fields by Lightning softball teams, the school district will get considerable improvements to the school's four softball fields at no cost to the district. The school's boys and girls softball teams will still have priority use of the fields during the fall school softball season.
About 18 residents, including board members, voted for approving the lease at the special meeting. No one eligible to vote voted against the measure.
"When they came to us with the offer, we discussed it a lot," said board President Jack Niccoli. "There appears to be no downside."
In the first year, the lease calls for Lightning to make a number of improvements valued at $28,000:
Verify location of base anchors, home plate, and pitching plate.
Layout infield perimeter area for sod removal. Intent is to remove minor lip build up to promote player safety as well as allow for positive surface drainage off of skinned field.
Supply, install, laser grade, and compact high quality baseball mix to skinned infield area. Intent is to provide better playability and promote positive surface drainage. Approx. 60 cubic yards per field.
Reinstall and/or replace existing base anchors, pitching plates, home plates as necessary.
Supply a set of bases for each field.
Supply and install Pro-Mound Clay to pitching and batting wear areas.
Topdress skinned infield area with H&Kmagic Mix topdressing material. Approx. 15 tons.
The agreement commits Lightning to make $4,000 a year in improvements to the fields. Potential projects include: Dugouts, fencing, electrical, blacktopped pathways, equipment shed, improved concession stand, restroom facilities, scoreboards, improved spectator seating. These improvements have been discussed but Lightning is not limited to these.
The agreement calls for Lightning to maintain the infield area of the fields. Lightning also will be able to post a sign reading "Home of the Lightning Youth Athletics."