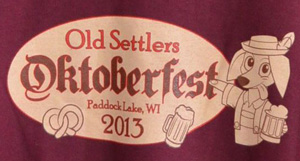 Note: Old Settlers Oktoberfest is a westofthei.com sponsor. — DH
The third annual Old Settlers Oktoberfest will be held Sept. 14 at Old Settlers County Park in Paddock Lake.
The event will include authentic music, dancing, food and beer. There will be games and activities for adults and children.
Featured will be the music of Brew Haus Polka Kings and the Jerry Schneider Band along with the dancing talents of D'Oberlanders. There also will be a car show, wiener dog races, a raffle and fireworks for a finale.
Click here for a schedule for the day.
Click here for the full menu of the food offerings from Colony House, Marv and Allison's Lakeside Sentry (a westofthei.com sponsor), Drifter's Bar & Grill, Heidi's Bakery (a westofthei.com sponsor), Donna's Potato Pancakes and the beer offerings.
Here's a video of some of the Heidi's offerings that will make your mouth water just watching them:
Primary organizers of the event are Heidi's Bakery in Paddock Lake, the Westosha Kiwanis Club and Kenosha County Parks with County Executive Jim Kreuser.
Click here for a full list of sponsors of the event.