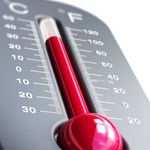 It's still expected to be a hot one today, with a high temperature of 94 today in the National Weather Service forecast. In fact, at 5:44 a.m., it's already 76 at Kenosha Regional Airport.
Tonight there's a 40 percent chance of a thunderstorm with a low of 69 degrees. Wednesday, there's a 30 percent chance of a thunderstorm and a high of 86.
And then that's it for the hot weather, at least for the balance of the week.
High temperatures are expected to start dipping starting with a high of 75 Thursday, 64 on Friday and 69 on Sunday.