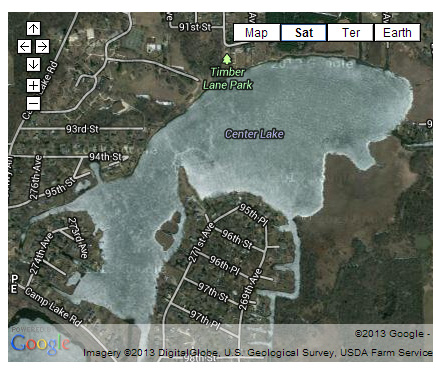 A man who was swimming in Center Lake today and disappeared under water has been identified by the Kenosha County Sheriff's Department as Clide Routheaux, 75, of  Trevor.
According to a statement released by Sgt. Mike Weyker, Sheriff's Department spokesman:
On 09/10/2013 at 1453 hours Deputies responded with Salem Fire and Rescue to Center Lake, in the Town of Salem, for a report of a missing swimmer in the water. Kenosha Dispatch received a call that a 75 year old male was swimming, went under water and did not resurface. Kenosha County Dive Team was called in to assist along with other area agencies. Preliminary reports indicate that Clide Routheaux, (75 years old, Trevor area resident) was out boating with family and friends on Center Lake. While on the lake they decided to go swimming off the side of the boat. Mr. Routheaux entered the water with a depth of about 22 feet. Mr. Routheaux went under water and did not resurface. Family and friends attempted to locate Mr. Routheaux in the water just prior to called 911. Upon further investigation this incident is being considered a boating accident and the investigation will be turned over to the Wisconsin Department of Natural Resources after the recovery mission is concluded. At about 1630 hours Salem Fire Chief Mike Slover, incident commander, no longer considered the incident a rescue, at which time it turned into a recovery mission. Agencies will continue to search the waters for the victim until dark. If no victim is found before dark recovery efforts will continue in the morning.
Our original reporting on the incident is here.
UPDATE 9:33 p.m. — Radio transmissions appear to indicate that recovery efforts are continuing on the scene, despite it being past darkness.
Related stories
Units responding for water call on Center Lake; search for swimmer under way