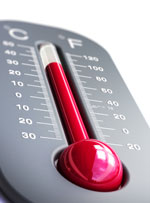 Monday and Tuesday, as forecast by the National Weather Service, would be hot days any month of the year.
In the second week of September, it's gonna seem sweltering!
Monday's forecast high is 91 degrees. Tuesday's forecast calls for a high of 94 degrees.
A 50 percent chance of thunderstorms Tuesday night may start a cool down. The high for Wednesday is forecast for 85  and 77 on Thursday.
The heat and the follow-up storms warrant a hazardous weather outlook from the NWS.