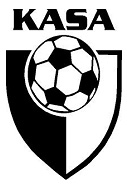 Registration is on now for the Fall 2013 KASA outdoor soccer season and t-ball/coach pitch season.
Soccer season runs from Sept 14 with the final playoffs on Nov 2. All games played at Silver Lake Park at the Soccer Complex. Divisions as follows:
Div 1 — 2-4 yr olds (4 yr olds not ready to move up) 10 am Games.
Div 2 — Prek-K 11 am Games.
Div 3 — 1st and 2nd Graders 12:15 pm Games.
Div 4 — 3rd and 4th Graders Games will be at 10, 11:30, or 1 on the u11 field.
Div 5 — 5th and 6th Graders 1:30 pm. Games.
Div 6 — 7th and 8th Graders 3:00 pm Games.
Register online at www.kasasports.com. You may also register in person at Imagine Kenosha Learning Center 19806 83rd St.. Bristol, Monday through Friday 8 am to 5:30 pm. Registration fees:$65 for a returning player reusing their uniform from a previous season; $85 for any new player or player wanting a new uniform. Special: Register for Fall and Spring Sessions for an additional $35.
For Tball/coach pitch, late registrations accepted but may not get team of choice. All games/practices at Silver Lake Park. For ages 3 to 8 years old. Fee is $60 and includes team hat, shirt and award. Monday evenings from 6 to approximately 7:30 pm from Sept. 23 until Nov. 4.
Questions? Email kasasports@yahoo.com or text/call 262-220-5682