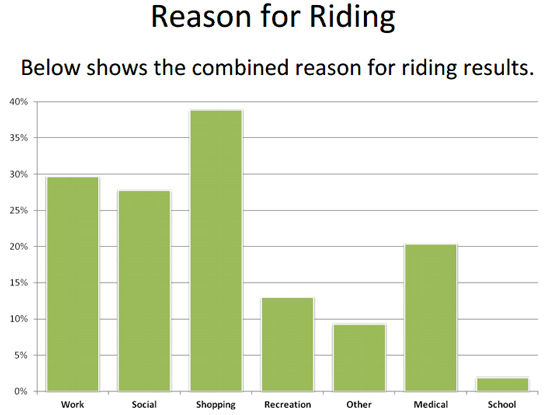 Note: Western Kenosha County Transit is a westofthei.com sponsor. — DH
What is the most common reason people use the Western Kenosha County Transit system?
Shopping.
That's according to a survey that the system took of riders during two weeks this August. The survey yielded 54 responses for both fixed route and demand response service. The response rate represents between 30 to 50 percent of route ridership and roughly 40 percent of door-to-door ridership, said Lane Masoud, mobility manager for Western Kenosha County Transit.
Just under 40 percent of respondents gave shopping as the main reason they use the system. Next was work, at just under 30 percent. That was followed by social at about 27 percent and medical at 20 percent.
The transit service operates fixed route and on-demand buses in Western Kenosha County. It started in 2007 and is  funded by federal grant funds, state funds and some county tax revenue.
Here are some other snapshots of the service from  the survey:
The community of residency with the largest representation in the survey respondents was Twin Lakes at 37 percent. Next highest was Silver Lake at 19 percent followed by Kenosha and Salem at 11 percent.
96.3 percent of respondents rated the transit system excellent or above average.
50 percent paid a daily fare while 38.9 percent used a monthly pass.
47 percent of fixed route riders and 44 percent of demand-response riders rode the bus more than 10 a month.
A slide presentation of a summary of the entire survey is available here.