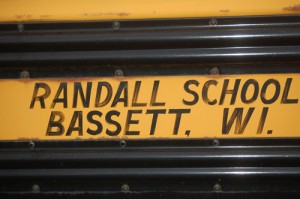 The damage to Randall School from Friday's thunderstrom was centered in the library and caused by a overloaded drainpipe.
The library may not be available for use while repairs are made but school will open as scheduled Tuesday, said district administrator Steve Bloom.
Here's is an update Bloom shared with us Sunday on the situation:
The recent heavy rainfall caused some minor flooding in the Randall School library. The cause of the flooding was a compromised drainpipe located above the library breaking loose due to the heavy volume of water associated with the severe storm. Several workers and staff members present in the building at the time took swift and appropriate measures to call 911. We wish to acknowledge their quick response and we also wish to give a huge word of thanks to the Twin Lakes police department and local fire departments and rescue squads who responded immediately to the call and who helped with the initial cleanup in the library. The fire department brought in large fans to circulate air to assist in drying the carpets. A special note of thanks to Mr. Rich Rego for his presence and dedication to restoring the library to its normal condition. It is possible that the library may not be opened for student or staff use during the first few days of the school year which is set to begin on Tuesday. Every effort will be made to ensure student and staff safety in the library and it will be opened once again when appropriate to do so. The district's insurance carrier has been notified and the claim will be expedited by the digital recording of the incident and aftermath by Mr. James Adams, Director of Technology for the district. Once again, a huge thank you everyone who responded to this situation and who continue to assist in clean-up and restoration efforts.
Related posts