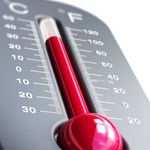 The high temperature to day is expected to creep back over 90 degrees, according to the latest National Weather Service forecast.
There's also a 40 percent chance of a thunderstorm today and a 50 percent chance of thunderstorms tonight.
Looking ahead after that, temps should be in the 80s Saturday and Sunday before dipping down into the  70s for highs for most of the rest of the week.
UPDATE 1 p.m. — The National Weather Service has now issued a heat advisory in effect until 6 p.m.