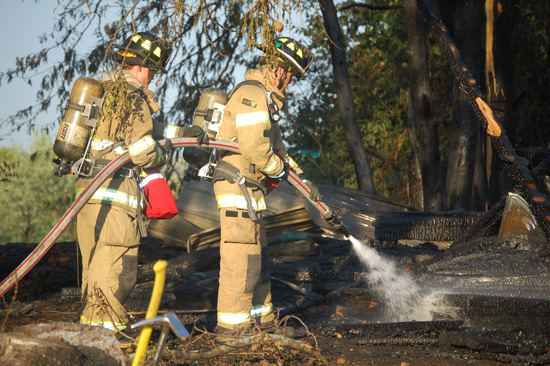 At about 5:26 p.m., Town of Salem Fire/Rescue units and sheriff's deputies are responding to a report of a fire in the 25800 block of 103rd Street (Highway SA) in Salem.
UPDATE 5:28 p.m. — A barn is in flames, dispatch reports and nearby trees are also on fire.
UPDATE 5:32 p.m. — Deputy shutting down traffic on Highway SA at 256th Avenue.
UPDATE 5:36 p.m. — Mutual aid responding from the following departments: Bristol, Wheatland, Randall, Silver Lake, Paris, Pleasant Prairie, Kenosha and Antioch.
UPDATE 6:42 p.m. — Just returned from the scene. Barn is a total loss. Following is from Salem Fire/Rescue Chief Mike Slover: Barn was fully involved as fire units arrived. As they arrived a wall collapsed. No one was at home at the time of the fire. No animals were inside the barn. Mutual aid was called for quickly to ensure enough personnel due to the heat today. No injuries to firefighters. A nearby treeline also was caught fire. No cause of the fire is known yet. Deputies are on scene investigating. A nearby out building also was damaged. A 1950s era Chevrolet car in a shed sustained some heat damage. Slover said he anticipated a lengthy overhaul process to make sure the fire was out. Firefighters who were at the scene were going to be sent home with instructions to drink water to rehydrate.
Here's some video of overhaul in progress followed by more photos: