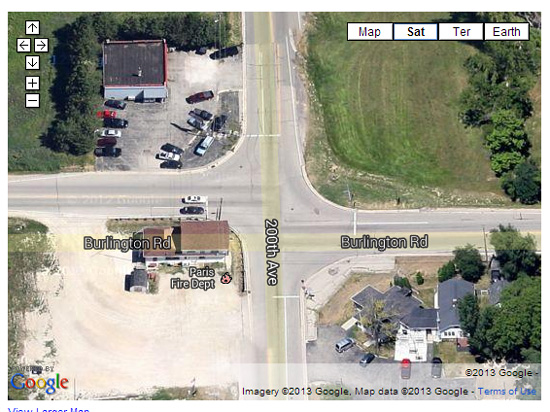 Paris Town Board members tabled consideration of a formal resolution expressing opposition to placement of a roundabout intersection at Highways 45 and 142 until after state Department of Transportation officials agreed to attend the Sept. 24 board meeting.
At that meeting, Paris officials expect the DOT representatives to explain options for improving traffic control at the intersection.
Currently, the intersection is a four-way stop.
Earlier this summer, town officials learned that the state was planning a roundabout for the intersection, they said Tuesday night. That was a surprise, they said, after years of attending meetings on the overall Highway 45 project. Up until recently, the only roundabout shown on plans the Town Board had seen had been at Highways 45 and K. Paris has not opposed that roundabout.
But the proposed Highways 45 and 142 roundabout is different, said town Chairman Virgil Gentz, chiefly because as proposed it would eliminate two businesses.
'The two businesses on the west would be greatly effected — they'll be gone," Gentz said.
DOT alternatives to the roundabout that have been shown to town officials also would eliminate the tavern and auto repair business on the west side of the intersection, Gentz said. Supervisor Ron Kammerzelt said the non-roundabout alternative might be even worse.
"No matter what they do it's going to have an impact," Gentz said. "This would definitely be an intrusion; it's unacceptable at this time."
Kammerzelt also related how it seemed like the town board members' opposition to the roundabout, though expressed to state officials, didn't seem to be being acknowledged.
"Someone's not listening," Kammerzelt said.
That difficulty in getting their message through was what prompted the resolution in opposition to the roundabout proposal.
But after state officials agreed to come to the Sept. 24 Town Board meeting to discuss alternatives, board members thought better of passing the resolution beforehand.
The motion to table the resolution passed unanimously.