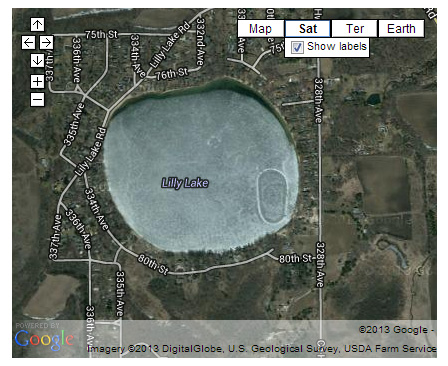 The Wheatland Town Board passed an ordinance Monday limiting use of motorcycles on frozen Lilly Lake to 10 specified hours on the weekend.
The board also made a last minute addition that motorcycles on the lakes have mufflers. That addition will only go into effect if it is deemed legal by the town attorney.
Chairman Bill Glembocki had previewed his intent to propose an ordinance to limit ice motorcycle use on Lilly Lake to 10 a.m. to 2 p.m. on Saturdays and 10 a.m. to 4 p.m. on Sundays at a meeting of the Lilly Lake Protection and Rehabilitation District earlier this month.
Glembocki said then and Monday that he felt limiting the time was the only practical way of trying to limit ice motorcycle activity as determining a noise level would be imprecise.
"We had nothing before," Glembocki said. He said he planned to follow-up with the frequent ice motorcyclists on the lake to ask that they also implement down-facing exhaust pipes to try to control noise.
After an audience member said he found that state administrative code required mufflers on motorcycles, the board considered adding some kind of muffler requirement.
Supervisor Andrew Lois suggested requiring a "manufacturer-approved muffler." Eventually the board settled on just requiring "a muffler."
Glembocki said he would check out the legality of the muffler requirement. The board unanimously approved the restricted hours, and the muffler requirement too if it passed legal review.