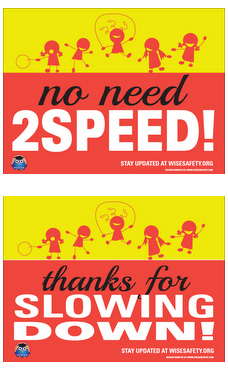 Aimee Janus saw cars in her Trevor neighborhood that were traveling just too fast for her comfort.
As a mother of two small children, this concerned her and she wanted to do something about it. She asked for help from Salem, but was told nothing could be done to lower the 25 mph speed limit on her street. Speed bumps were also out.
Kenosha County Sheriff's Deputy Ray Rowe (known to many as the local D.A.R.E officer) set up a digital speed sign on her street. That did seem to help, but it was only temporary.
But Aimee came up with the idea to spread the effect of that digital sign with yard signs with the slogan "No Need 2Speed" and "Thanks for Slowing Down!"
And that effort is now getting a boost from the Sheriffs Department. Sheriff David Beth held a press conference today in Kenosha to introduce the program and see if it could attract some attention from a sponsor that could help spread the program throughout the county and maybe beyond.
"We're trying to fine tune it and get some response," Beth said. "Sometimes all you need is that little reminder to slow down."
Janus said she has the signs in her yard and she feels they are effective. To make sure they just don't become part of the scenery she adds more signs or moves them around.
"They grab attention," Janus said.
Janus has had help from Crux Creative in designing the signs and the logo for Wisconsin Initiative Safety Education, the name she has given her effort.
Beth said Janus first wanted to focus on spreading the campaign in her neighborhood. That expanded to the county. There's been some attention from Racine and Illinois, Janus said, and maybe it can go beyond.
"I'm happy with it going anywhere a child could be saved," Janus said.
For more information on Wisconsin Initiative Safety Education and how to get your own No Need 2Speed yard sign, visit http://www.wisesafety.org.
Here's a video of today's press conference with a lot more information: