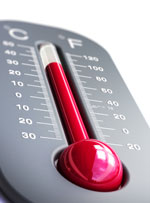 Temperatures should be a lot more like what we would expect in late August this week.
Today's high should be 86, says the National Weather Service forecast. Tomorrow may get to 90.
Thursday and Friday should cool off some (highs of 82 and 79 respectively) but temps should climb again after that maybe reaching 90 again by Monday.
The best chance of rain in that stretch is Wednesday night, with a 60 percent chance of a thunderstrom.