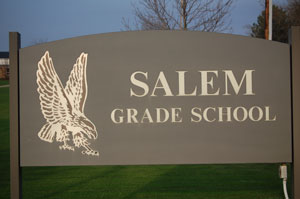 The Salem School Board took steps Tuesday that should see fifth grade band return to the school.
The board, on the recommendation of district administrator David Milz, authorized an additional .6 FTE for instrumental music/choir music instruction for a total of 1.6 FTE.
The timing for the move was prompted by the resignation of general music teacher Annemarie Travia. Current band director/choir director Carol Moore will be moving into that job, Milz said. The .6 increase should allow bringing the start of band back to fifth grade. Moore was the school's choir director before taking on both band and choir after the failed referendum in 2009 led to staff and program cuts. At the same time, band was moved to a sixth grade start.
Support for upgrading the band program came from some audience members during citizens comments.
Kim Ouwerkerk of Salem lamented the lack of impact Salem alumni are having on the Central High School band program in recent years. For example, though Salem is the largest Central feeder school, the current CHS jazz band has only one Salem alumni as a member, she said.
"We need a band director, we need a choir director," Ouwerkerk said.
Lori Kerber of Salem also supported improving the band program.
"I think that is the one missing link in our school that we haven't been able to re-establish," Kerber said.
At least one board member advocated going even further. Lisa Hinze asked why Salem shouldn't become a leader and bring band to fourth grade or add a string orchestra program.
Board President Jack Niccolai, a former longtime band director at Salem, responded that younger students are especially time intensive and that string programs presented challenges of space and instruments that might be more than the district should take on now.
But Niccolai, admitting his bias on the subject, was very supportive of the additional spending needed to bring band back to fifth grade.
"This is definitely a step back in the right direction," Niccolai said. "I think it's a wonderful program and well worth the money needed to bring it back …"
The additional .6 FTE was approved unanimously by the board, with Board Member Barb Ingram absent.