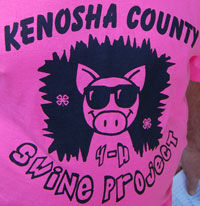 Here are the results of the 2013 Kenosha County Fair Junior Fair Swine Show.
Taylor Matrisch exhibited the grand champion market hog.
Kate Beth exhibited the reserve champion market hog.
Champions by class were:
Grand champion male exhibited by Cassandra Epping.
Grand champion female exhibited by Cassandra Epping.
Champion duroc exhibited by Morgan Rau.
Champion chester white exhibited by Elija Pogue.
Champion Poland China exhibited by Kristin Blume.
Champion Spot exhibited by Claire Fox.
Champion Hampshire exhibited by Thomas Walsh.
Champion Yorkshire exhibited by Ryan Debell.
Champion all other breeds exhibited by Krisin Blume.
Champion Crossbred Taylor Matrisch.
Senior showman — Kristin Blume
Intermediate showman Ryan Jackson.