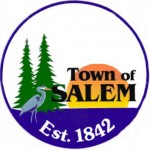 The need to upgrade the town's sewer plant and lift stations is the main driver behind a schedule of user charge increases approved by the Salem Town Board Monday in a unanimous vote.
The first increase, effective for the period Oct. 1, 2013 to Sept. 20, 2104 will increase the base rate $9 per quarter, according to a schedule in the amended ordinance approved unanimously Monday. The ordinance lays out 10 total annual rate increases through Sept. 30, 2023. After the last increase on the schedule the base charge will have increased from the current $108 per quarter to $167 per quarter for Oct. 1, 2022 — a 55 percent increase in the rate over the entire 10 years. Quarterly rate increases are around $10 for the first four years and then about $5 to 6 for the rest of the years.
Officials said the last rate increase came about five years ago.
Town administrator Patrick Casey said the increases are needed in order to upgrade the sewer plant to the tune of about $3 million in improvements.
"We need to upgrade the plant," Casey said. He added that the town's 24 lift stations also need attention to head off any problems.
"What we don't want to risk is having any of those fail," Casey said of the lift stations, which help move sewage through the system where gravity cannot.
Supervisor Dan Campion pointed out much of the lift station equipment is showing its age.
"A lot of the equipment is very old, very aged," said Supervisor Dan Campion. The town recently received from a consultant a master plan for the sewer system.
The town will not just be sinking money into the work with no return. Casey said the plant improvements should result in about $75,000 in annual operational savings due to increased efficiency.
Town Chairman Diann Tesar said that the charge for septic companies that unload waste at the plant also are expected to be increased. Supervisor Dennis Faber said that service, started by the town just last year, brings in $6-7,000 a month in revenue.