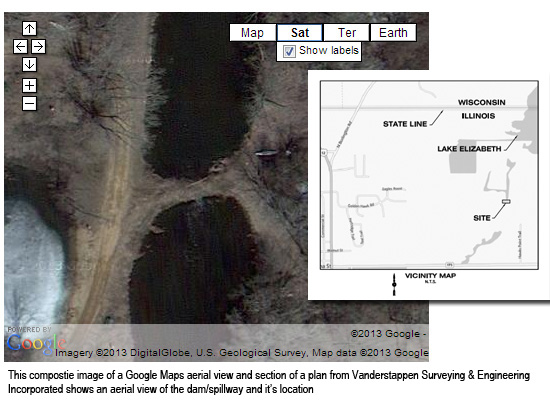 The Twin Lakes Village Board heard an update on the ongoing Lake Elizabeth Dam/Spillway project Monday night.
Along the way, some vigorous discussion between Trustee Kevin Fitzgerald and village President Howard Skinner emerged on the effect of the new design on lake levels.
The spillway is located in Illinois on land that is owned by the village. A 2009 document from the Southeastern Wisconsin Regional Planning Commission describes it as "sections of earthen embankment on either side of a concrete spillway. The concrete spill crest is 5.7 feet long (perpendicular to the direction of outflow from the lake). Lake levels are controlled by inserting or removing a 10-inch high metal "board" that slides into slots in the concrete spillway abutments. When the board is in place, it rests on the spillway crest."
The dam is accessed through the private Richmond Hunting Club property.
Michael Caldwell of Vanderstappen Surveying & Engineering of Woodstock displayed the current plans for the structure and gave an update on the process.
The design for the new dam calls for sheet piles filled with concrete. The new design has no removable board and instead sets the height of the spillway at the height of the current spillway when the board is inserted — 793.52 feet above sea level.
And that was what sparked a strong reaction from Fitzgerald who made the case that what he called a more natural situation of high water levels in the summer and lower in the winter would be disrupted to the detriment of the lake's shoreline.
"The lake held consistently higher is going to cause shoreline erosion," Fitzgerald said.
Skinner questioned that assertion and added that the structure definitely needs to be replaced due to wear.
"If we don't fix this structure, it's all going to end up in Fox Lake," Skinner said.
Tony Migon, chairman of the Lake Steering Committee, said that group recommends the permanent spillway height of the new design.
Caldwell explained that a design change is under consideration that would increase the volume of overflow at high level times by utilizing the whole 50 feet of the spillway instead of just the about 6 feet of the current board.
Fitzgerald was undaunted.
"You're willing to gamble with this," Fitzgerald said. "I'm not."
Skinner answered: "I don't think this board is gambling at all."
Caldwell said the next step in the process is for the plans to be presented to the McHenry County (Ill.) government for review.