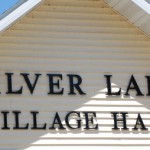 The Village of Silver Lake Board met last night, with only one trustee absent (Michael Decker).
Twelve people were in the audience, including Van Wanggaard, former state senator, who wanted to meet and greet the people in the new 21st district.  Ralph Jeniclek suggested to the board that they follow Paddock Lake's example in sending out a questionnaire flyer to all of its citizens, asking for their comments.  President Sue Gerber said that she'd talk to Mr. Burns about it.  Roger Johnson had a lot to say to the board members.  Most of his comments centered around financial issues.  "Why does the board continue to hold committee of the whole meetings, where nothing is accomplished?  Each meeting costs $200.  You guys are just running the village down.  When I was the village president, I didn't have jobs bidded out.  You don't need to bid all of this work out."
Colleen Dykstra said that she was happy to see that the village was fixing up the front of the building.  But, she questioned Sotiria Wilber's scheduling of the Economic Development Meeting on July 30th at 4:30 pm, at a time when most people work.  Wilber apologized and said that she'd be scheduling another meeting in October, which will include a presentation to the entire village.  Johnson also made another comment to the effect that, whenever a member of the board gets a call, they are not to say "It's not my committee."  He said, "You are all elected by the people of the village.  You still need to step in and help out with whatever problem is brought before you."
There was no one present from Citizens for Growth.
Gerber made a motion, which was approved unanimously, to allow the library to continue its "Children's Story Hour" every Wednesday morning from 10:30 am to 11 am in the Fall, here in the Village Board Room.
A discussion ensued regarding the village's website.
It used to be maintained by the Wisconsin Department of Administration.  Three problems have surfaced in the last few weeks with hacking and viruses, etc.  The board stated that they don't want people's financial records to be compromised with the potential "point and pay" feature.  Johnny, a rep from the current website company, spoke and explained that the recent problems were nothing more than "spam hacks."  If the village goes forward with the "point and pay" feature, the village residents' privacy and safety will not be compromised because the link that a person is taken to will have its own security features.  Johnny promised to track the activity on the website for two months, and he also stated that he'd revise his pending annual invoice until the site is stabilized.
Next, the board discussed the first reading of Gerber's proposed Ordinance 504 regarding filling vacancies on the village board.  Gerber's proposal is to fill a vacant board seat with the next highest vote getter from the last election, or to keep the seat vacant until the next election.  The board can then determine how the seat gets filled.  Wilber then read from the state statute, which is not vague.  It's very specific on timelines and guidelines on how seats get filled.  She didn't feel that the ordinance was necessary.  She also stated that having a board of seven was a way to have a majority; she thought it was left that way on purpose.  Cindy Schwebke agreed.
A comment came from the audience, "So, then, what the board voted for means nothing."  Gerber said, "That's why we have elections.  It's a slap in the face.  We shouldn't have elections, then.  We could just draw names from a ring."  Schwebke said that she thought that's why letters of intent were sent in.  She said that she doesn't agree with having an even number on the board.  Gerber said that she didn't think it was fair.  It felt like we "stacked the board."
Wilber said that she was offended by that comment, but Barbara Ironside said that she shouldn't take offense.  It could have been directed at her or anyone else on the board.  "All take time out to go and vote.  All votes count.  Or else, people won't vote."  She stated that she was not insulting Wilber, but Wilber still felt that she had.  Ironside said, "Then, why have elections then?"
The comment was made that the village attorney, Linda Gray (who was not present at the meeting) said that the board could create an ordinance and overstep it.  Patrick Dunn said that he doesn't agree.  Wilber wanted the issue raised with Gray.   Dykstra commented from the audience, "You guys appointed who you wanted."
Gerber said that she would speak with Gray further on the proposed ordinance.  This item was then tabled.
The consent agenda was then voted on and approved unanimously.  The minutes from the July 17th meeting were amended to add some comments from the village attorney, which had been omitted.  Terry Faber, the clerk/treasurer, will have amended copies at the next meeting and on the village's website.
The board voted 5 to 1 to authorize Faber to attend the Fall Municipal Treasurer's Conference in Eau Claire.  Dunn was the sole dissenting voter.  The cost is not to exceed $550.
Wilber's motion to send Sandy Cickerneo to a Wisconsin Economic Development Community informational session on August 15th in West Allis failed.  Cickerneo offered to attend the session.  There was a discussion about paying her mileage.  It's 80 miles round trip, which would amount to approximately $42.50.  Wilber said that Gray told her that there is no legal prohibition against paying someone mileage.  Roger Johnson recommended sending Joanne Mangio.  He said that she used to attend these meetings for the county.  Wilber said that she would contact Mangio and see if she wanted to go.  "Maybe, they could even go together?"
Gerber said that she receives no compensation for her service on the library board, nor does she receive any mileage reimbursements for her driving.  Wilber said that something should be in place for the future.  Gerber said that she didn't think that we should be sending people to meetings that we should be attending.  Schwebke said that she understands that Cickerneo didn't sign up to attend the meeting to get compensated, but that Wilber was being considerate of her to offer to pay her mileage.  But, Schwebke said, some may try to take advantage.
Ironside said that "we should think it through."  She can see both sides.  Gerber said that no one needs to go the informational session, really.  Gerber, Ironside, and Schwebke voted against; Dunn abstained.  Therefore, the motion failed.
The board, on the other hand, voted unanimously to authorize Bob Williams to attend the Wisconsin Wastewater Operators Association (WWOA) conference in Steven's Point.  He needs the classes to maintain his certification, which expires next year.  The total cost is $467, plus meals, which are not to exceed the handbook rate.  Mileage is 390 miles at $0.565 cents a mile (the IRS rate).  Wilber brought up the fact that a lunch is $20, and a banquet is $30, which exceed the village's rates.  These are billed separately as part of the conference.   He will not be getting reimbursed for those meals.
Committee Reports
Economic Development – Wilber said that James Engel and Kathy Burger from the Wisconsin Economic Development Corporation in Madison attended the meeting last week.  Two programs they offer are the "Main Street Program" and "Connect Communities."  Their recommendation for Silver Lake is "Connect Communities."  There is a $200 annual fee.  The "Main Street Program" carries with it a minimum $40,000 commitment, plus staff and resources, that we don't have.  Wilber said that she would pursue the "Connect Communities" program.  Another meeting will be held on October 16th, which will be a Q&A meeting for the community.  This will be held during the village board's regular meeting.
Dykstra wanted to know what we get for the $200.  The answer was phone and tech support.  Wilber said that they have the knowledge and expertise.  They give us guidance.  She reminded Wilber that property owners don't care about their buildings.  Schwebke commented that they only accept twenty cities a year to work with. If they are not accepted for the program, they can still call at any time and ask for advice.
Ironside said that she gives Wilber credit for pursuing this.  "If it fails, though," she said, "if we don't qualify, we should pursue rezoning the area to be a multi-family dwellings.  Maybe then, a developer could come in and build some nice, new buildings."
There are two buildings currently in tax delinquency (the grocery store and the building next to the pet store).  Teri Jacobson from the County will notify Faber when they have been taken over by the County.  Wilber asked Faber for a copy of this when she receives it.  At that time, purchase options would be considered.
Also, Johnson mentioned the issue behind the building.
Other ideas for community involvement were mentioned, including a Fishing Derby and Street Dance.
Finance, Legislative & Admin. – Ironside said that the first budget meeting will be held on the 14th at 7 pm.  Gerber asked if it was going to be a general meeting, or department specific, and Ironside replied department specific.  She said that she wants the department heads here.  Wilber said that last year, Faber sent a copy of the budget to each department and met with them individually.  She thought it would be easier to review one small piece at a time.
Wilber said that she emailed the performance evaluation dates and will get it on the next board meeting agenda.
Faber got a call from Frontier regarding their long distance phone bill.  It ends up being a few pennies more a month.  The lowest long distance bill they've paid has been $62/month.  They pay $191.88 as a base rate.  So, for $254.94, they can now get unlimited long distance calling, plus local calls.  They have Frontier now, but a different long distance carrier.
Regarding insurance, Ironside doesn't know for sure if our insurance covers the complete village.  Do we have enough insurance for all of our equipment and buildings?  Was the list ever turned over?  Wilber thought that it was.  Each department was asked to provide a list.  Wilber thought it was all covered under our policy.  Apparently, the squad car was not at replacement value.
Police & Judicial – Ironside said that Marlene received her certificate for the traffic seminar.  This was in order for her to keep her certification up.  She's required to have so many credits a year.  So far, she has eleven, which exceeds the amount needed.  She will continue going to seminars as her job allows.  Ironside said that she did not get any numbers from Decker.
Emergency Government – Ironside reported that there was a meeting tonight before this meeting.  (Click here to read a report about that meeting:  "Silver Lake Emergency Government Committee Met Tonight.")  At that meeting, the Fire Department proposed budget and staffing issues were discussed.  At the next meeting, the number of hours a person works at the Fire House and the Maintenance Department will be discussed.  Ironside wants to see the employees utilizing their time better.
Truck # 67 will be going in for its annual check up.  The tanker may need tires.
Wilber wanted to know if we received the money from the association from the bottles, and the answer was no.  Ironside said that the dive team didn't use the $2,000 for the boat, so she paid the bill for the boat dock.  There was a $681 bill for the underwater recovery outlay.
The fire department responded to 104 calls year to date, 14 this month.  Six were fire related, and eight were medical related.
The Rescue Squad had their blood drive today.  They answered twelve medical calls this month and assisted in six fire calls.
Johnson wanted to know if they'd gotten any report on the Street Dance, but Ironside said no report has been received yet.  Because they have been certified as an association, they don't have to divulge that information to the board any longer.  She said that she forgot to ask Andy about it.
Gerber said that the damaged garage door was replaced today.  All other doors were also given preventative maintenance.  Dykstra wanted to know how much that cost.  It was less than $2,000, and the insurance company paid for it.
Gerber reported that all stop signs and "No Parking" signs are now up.  There is a new storm issue at 4th and North in addition to the other eight.  Regarding the oil leak issue, Linda Gray has been in discussions with the property owner and the DNR.  Regarding the new issue, it has to do with an oil tank underground.  There was a car repair garage there in the 30's and 40's.  Chem Report is working with the DNR to remove Silver Lake from the report, to remove their liability.  It's unfortunate, because there were two different tanks/spills side by side.
The new storm sewer issue was addressed yesterday, which is located at 4th Street and North.  Faber is going to investigate institutions, interest rates, etc., regarding loans for getting the storm sewer work done.  There was also talk about finding a different auditor and a different engineer.
Dunn asked if the storm sewer work on 5th Street had been completed, but Gerber was not sure.  She said that she would check the file.
Parks, Public Lands & Library – Schwebke asked Erin Decker to get some extra dollars for her committee.  She is looking into grants for additional park money.  Johnson thought it was a good idea.  He said that the ball diamond needs some work.  Wilber suggested possibly asking the Lakeland Little League to help out with some money, since they use the field two or three times a week for practice.
Schwebke asked Faber if she got a call from anyone about the gate with the "No Trespassing" sign, but Faber said that she did not.  Schwebke said that she has the person's address.
General Welfare – Dunn said that 73 permits have been issued thus far this year, bringing in $5,689 in revenue year-to-date.